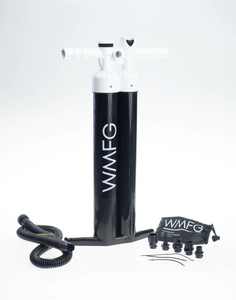 WMFG 1.0 Pro Pump - Is this Peak Pump Technology?
WMFG revolutionized the kite market with the release of the WMFG 1.0Tall kiteboard pump, dual-action, extra volume, less bending over, less pumping.  Every other kite manufacturer followed suit by copying the 1.0 Tall pump.  But now WMFG is putting out the WMFG 1.0 Pro pump.  It's a double barrel 24.75" tall by 11.5" wide (dimensions to help plan your travel packing) triple action pump capable of up to 25 psi!  Two 1.8L barrels produce 3.6L air volume per stroke.  With the triple-action allowing for double-action (up down pumping), single-action (air only comes out on the down stroke) and single barrel pumping.  With 25 psi, you don't need multiple pumps anymore because you will now be able to inflate your inflatable stand up paddle board as well! Multiple hose tips are included as always with WMFG, making your life easier!
The pumps are in stock, pick one up now by clicking this link!
---