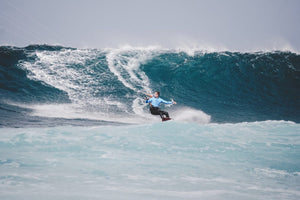 Ralph Boelen Joins RRD Kiteboarding | Strapless Freestyle Kitesurf
This is an older news item, but Ralph Boelen has left North to join the RRD Kiteboarding International team.  I've met Ralph years ago; not while kiteboarding or kitesurfing in Alberta, Canada but rather in Maui, USA.  Ralph is a great strapless freestyle and wave kiter.  Since we were in Maui during winter, the riding I saw was more in the surf/wave riding category than the strapless freestyle kiting discipline which was just in its infancy at the time.  The discipline has also grown significantly in popularity since then, to the point that there is a strapless freestyle kitesurf championship.
Following are excerpts on the RRD Kiteboarding interview with Ralph.  
"
– What s your favorite gear? 
I'm in love with the Religion MK8 obviously… the wave riding kite machine of RRD ;) my go to board is definitely the C.O.T.A.N. V2, this board is a super playful perfectly working for many conditions and seems be holding well the pressure after heavy landings!
– What are your goals for 2018?
First of all, i'm looking foward getting again a Top 5 on the World Tour...
– How do you see kitesurfing evolve in 10 years? 
I must say that I am positive seeing how good it is going in the industry, especially on the competition side, Global Kitesports Association (GKA) is making an awesome job bringing us a solid tour. We all know that kitesurfing is still a young discipline, but I believe we can bring to the next level such as Surfing.
– Anything you want to add? 
Send it!
"
Click here to purchase the RRD Kitesurfing Religion MK8 kite.
Click here to purchase the RRD Kiteboarding COTAN V2 kitesurf board.
Remember we ship across Canada whether you're kiteboarding in Calgary, Alberta, kiting in Squamish BC, kitesurfing the big lake waves near Toronto Ontario, or kiteboarding the flat water at the Iles de la Madeleine in Quebec, we'll ship it to you ASAP!
---