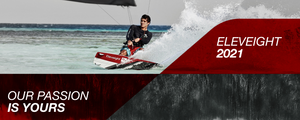 New 2021 Eleveight Gear!!!!!!!!!
 It's finally here, the Eleveight 2021 release!  Eleveight's award-winning kite and boards are still improving - development never stops! The gear is better than ever with the new XS mega boosting machine and fine-tuning of some of our favourite kites and boards.
Check out the Eleveight 2021 product video!
We are stoked on the 2021 gear!
Keep on Shredding!
---