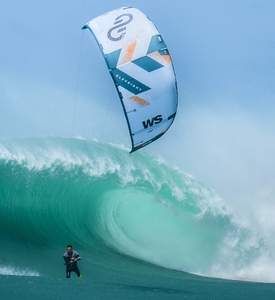 Eleveight Brand Kites
Eleveight Kites is a relatively new brand in the kitesurfing industry, but they have quickly gained a reputation for producing high-quality kites that deliver excellent performance. The company was founded in 2018 by a group of experienced kitesurfers who wanted to create kites that would take the sport to the next level. In this blog post, we'll take a closer look at Eleveight Kites and what sets them apart from other kites on the market.
One of the key features of Eleveight Kites is their innovative design. The kites are built to provide superior stability and control in all wind conditions and to reduce drag and increase the kite's performance, making it easier for the rider to perform tricks and maneuvers.
Another feature that sets Eleveight Kites apart is their use of high-quality materials. The kites are made with a ripstop polyester material that is both lightweight and durable. The leading edge of the kite is reinforced with a double-layered Dacron material that provides added strength and stability. The kite's bridle is made with high-quality Dyneema lines, which are known for their strength and durability.
Eleveight Kites are also designed with safety in mind. The kites come with a unique quick-release system that allows the rider to quickly and easily release the kite in case of an emergency. The kite also has a "safe mode" feature that allows the rider to land the kite safely in case of an emergency.
In addition to their performance and safety features, Eleveight Kites are also designed to be easy to use. The kites come with an intuitive control bar that is easy to operate, even for beginner riders. The control bar is designed to be comfortable to hold, and the kite's power can be easily adjusted with the simple push of a button.
Finally, Eleveight Kites are designed to be versatile. The different models are designed for a wide range of riding styles, including freestyle, freeride, and wave riding. This means that riders can use Eleveight Kites for any type of kitesurfing they choose to do, and the kites will perform exceptionally well in all conditions.
In conclusion, Eleveight Kites are an excellent choice for anyone looking for a high-quality kite that delivers exceptional performance and safety features. Their innovative design, high-quality materials, ease of use, and versatility make them an excellent choice for riders of all levels.
If you're in the market for a new kite, check out the models here https://shredkiteboarding.ca/collections/kites and consider giving Eleveight Kites a try.
D.G.
---