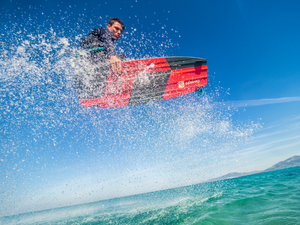 Eleveight Commander Twintip Kiteboard - 2020 V1 Video Review
2020 Eleveight Commander | Freestyle | Wakestyle | Twintip Kiteboard
We have had a look at the new 2020 Eleveight Commander and we are excited at the potential this board can unlock from riders.  The Commander has lots of grip but has a surprisingly fast riding speed on the water.  The flex pattern enables for greater flex under higher force loading, such as popping of the water and flexing to absorb the impact of a landing.  When not under a big load the flex allows the board to be early on a plane in lighter winds and rip upwind.
Significant channeling on the base creates significant grip allowing for controlled landings under power when significant horizontal speeds are involved (wakestyle tricks).  The grip provided by the channeling is enough to allow riders to even ride finless on the water.
Have a look at the interview between french dealer Altoa and Franz Schitzhofer.  Franz is the board shaping wizard with many years of experience under his belt.  The new Commander shows how Mr. Schitzhofer can flex his boardbuilding muscle and create the new 2020 Eleveight Commander!
 The board is suitable for riders looking to push their freestyle riding to the next level.  However it doesn't mean that only aggressive freestylers like this board.  Many freeride riders have been loving the Eleveight Commander.
We are excited to see what you can do on the water with the all-new Commander! 
Click here to purchase your new favourite board: the Commander
and checkout other boards in the Eleveight Kite lineup:
Eleveight and Brunotti Kiteboards at ShredKiteboarding.ca
Here's another picture of the Commander Kiteboard! Oh wait I mean Commander Keen!
Because we loved playing Commander Keen as kids!
---