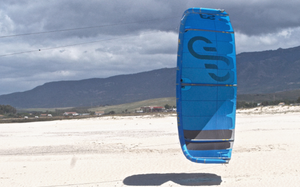 2019 Eleveight FS Review (Freestyle Series Kite Review) | Big Air | Freestyle | Mega Loops | Wow!
Wow!
We've just got our hands on the new 2019 Eleveight FS kites and we are quite excited to be riding them.  Eleveight Kite's lead designer Peter Stiewe has done a great job at creating a kite that has some really good pop off the water.  What do we mean by 'pop'?  Yes usually it's a term related to boards, with its origins from slamming the tail of your skateboard on the ground creating a good 'pop' for your ollie, but people often use it to describe how the kite lifts them aggressively off the water.  Read the Eleveight FS 'rips' you up and out of the water when you send it rather than just lifting you off the water.  When you load up your rail with your board and send the kite across the wind window for a good boost you really feel an aggressive pull/pop/lift (or any other term you can think of using for this action) out of the water.  This aggressive pop means bigger/higher jumps off the water. 
With the new 2019 Eleveight Kiteboarding FS freestyle kite you will likely find yourself bettering your personal records!
Give us a shout and if we are in the area (we travel quite a bit) we can let you have a go at the FS and see for yourself how high you can jump.  Based on the performance and build quality of the kites (wait for an upcoming post) we will definitely add Eleveight kite gear to our web store.  We're very excited to carry Eleveight kites and hope to get you a quiver of your new favourite kites!
Shred on!
---